Snorkel with Giant Clams at Tubod Marine Sanctuary, Siquijor
Tubod Marine Sanctuary on Siquijor's southwest coast is an amazing snorkelling spot and easily our favourite beach and underwater tourist attraction on the island.
Meters from Tubod's shoreline marine life thrives. 
Hundreds of colorful fish roam around in the crystal clear water and the ocean-bed is full of starfish, sea-urchins and huge 1 metre giant clams. Clown fish (nemos) hideaway in the tentacles of the surprisingly poisonous anemone plants. And occasionally you may spot a turtle gliding through the reef of the protected sanctuary at Tubod.
Located a few steps away from San Juan's tourist strip, Tubod Marine Sanctuary is one of the best tourist spots to explore while in town. If you are already in San Juan, it won't be more than a 10 to 15-minute walk to reach this amazing spot in Siquijor.
Here is a quick guide to Tubod beach including how to get there from out of town, entrance fees and what to expect.
Where is Tubod Marine Sanctuary
Tubod Marine Sanctuary is along Siquijor's South West coast. The sanctuary is right in the middle of San Juan where most restaurants and accommodations are located. San Juan is where most people stay to have everything close by. 
Another tourist spot just 15 minutes from San Juan is Lugnason Falls. You could easily combine Tubod Marine Sanctuary and Lugnason Falls in one day.
Tubod Marine Sanctuary Map
** Point A is Tubod Marine Sanctuary. B is San Juan town centre.
The other two blue marks are Lugnason Falls located east of Tubod and Paliton Beach.
How to get to Tubod Marine Sanctuary
If you are already staying in San Juan, Tubod Marine Sanctuary will be just a short walk away. 
Access to the beach and sanctuary is from San Juan's main road. The entrance isn't so obvious so look out for the sign "Tubod Marine Sanctuary" on the right side of Coco Grove Resort. 
Once you locate the entrance, a 5 minute walk through tropical trees leads to the shoreline and beach.
For those staying elsewhere, such as Lazi or closer to the port, there are a couple of options. Either rent a scooter or hail down a tricycle. 
A scooter is the preferred way for tourists to get around Siquijor. Scooter rentals stores are on the way out of the ferry terminal. Daily price should be around 250 pesos ($5).
Another option is to hail down a tricycle (local public transport, a motorbike with side car). 
Usually tricycles will charge around 150 pesos ($3) for a 15 minute ride. But if the journey is longer I suggest settling on a price before hopping on.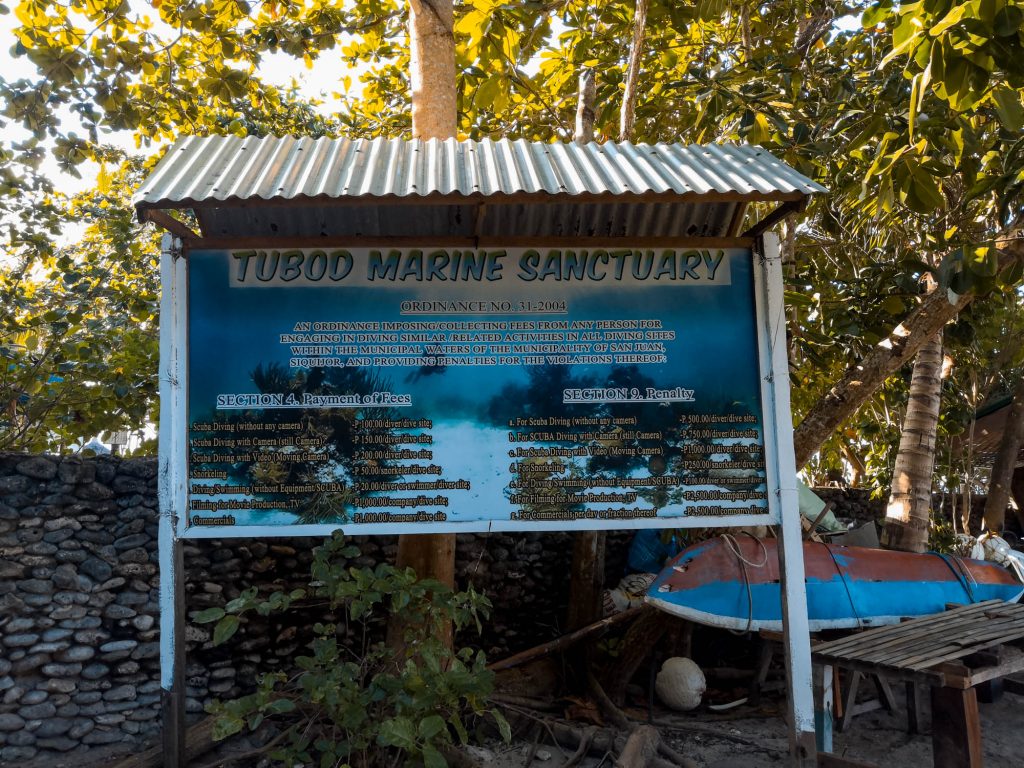 To enter Tubod beach and the Marine Sanctuary there is no fee. As long as you're not going to snorkel or swim there is no charge. 
Snorkelling fee is 50 Pesos ($1) and for swimming there is a 20 Pesos ($0.40) charge. Snorkelling equipment can be rented for 50 Pesos ($1).
Once we figured out that Tubod entrance was right beside Coco Grove beach resort (one of Siquijor's best resorts) we parked our scooter off the main road.
The path leading to Tubod is through a tropical landscape and only takes 5 minutes between the main road and the beach.
Jacqueline asked for the price in a booth right before the beach and we paid the 100 Pesos (for 2). 
The guys in the booth pointed out each section of the sanctuary. Told us where the giant clams where and everything else we needed to know. The sections of Tubod Marine Sanctuary are easily located by red buoys. So there isn't any way we could of missed them.
Neither me nor Jacqueline had really expected much. But this was no doubt one of the best snorkelling spots we had found in a while.
Meters away from the shoreline, loads of colorful corals and blue starfish are scattered on the ocean bed reminding us of Amed's snorkeling a few months back. 
Loads of colorful parrotfish nibble away the corals. We saw clusters of spiky sea urchins and blue starfish on the ocean bed.
But the highlight at Tubod Marine Sanctuary has to be the giant clams which are really giant at around 1 meter. And the clown fish (nemos) that hide away in a tentacley plant that floats with the currents.
Here's a sneak peek of what you'd be up to at Tubod Marine Sanctuary.
Siquijor's Best Things To Do
We spent 1 week in Siquijor and explored all popular tourist attractions along with lesser known places.
Consider combining 1 or 2 of these activities and create a whole day adventure while in Siquijor.
Cambugahay Falls: the best waterfall on Siquijor
Lugnason Falls: a 15 minute ride from San Juan
Salagdoong beach: turquoise water and cliff jump
Locong Falls: hideaway falls with hardly no visitors
Paliton Beach: best sunset spot close to San Juan
Cantabon Cave: Adventurous trail inside a pitch black cave