Salagdoong Beach in Siquijor
Salagdoong Beach - The Best Beach on Siquijor
Salagdoong beach on Siquijor in the Philippines is the best beach on this mystical island. Blue transparent water surrounds the entire bay area revealing the ocean seabed. But what makes Salagdoong the island's favourite beach are 2 cliff jumps off concrete platforms. The 35 ft and more manageable 25 ft platform add a thrilling experience that you won't find anywhere else on Siquijor.
For those travellers in search of one of the best tourist spots in Siquijor, Salagdoong beach should be on your bucket list of best things to do in Siquijor.
Where to Stay in Siquijor
Almost all tourists in Siquijor stay on the south west coast in a seaside village named San Jose. San Jose is the best place to stay in Siquijor if you want some of the best restaurants, resorts, bars, hostels and accommodation options all close by. Salagdoong beach is around 1 hour drive from San Jose.
Another option is to stay in Lazi. This is the town next to San Jose. Lazi is home to almost all of Siquijor's waterfalls and you will be closer to Salagdoong beach at just 30 minutes drive.
Siquijor is a relatively small island and it would only take around 2 hours to cruise around the entire island. So it is quite straightforward to plan where you want to stay since nowhere will be that far away. However, if you want the best options for places to eat and a few bars nearby your accommodation, stay in San Jose.
Where is Salagdoong Beach.
From the popular tourist town San Jose, it takes around 1 hour cruising along Siquijor's laid back streets to reach Salagdoong beach. 
If you stay in Lazi, the ride will be about 30 minutes. If you type in Salagdoong beach into Google.Maps, this will lead you directly to the beach. 
Or an alternative is to use an offline map. We use Maps.me which doesn't always give an accurate travelling time but this route for Salagdoong beach is accurate.
If you head South from San Jose and stick to the main road after about 50 minutes you will come to the start of a forest. Here take the right turn into the forest. The road enclosed by forestry leads to the beach.
How to get to Salagdoong Beach
The best and most popular way of getting to Salagdoong beach and reaching all of the island's waterfalls, beaches for sunset and all the best tourist spots is by scooter. 
Scooter rentals in Siquijor cost around Php250 a day ($5) and usually you will get a discount the longer the rental is.
The entire road network on Siquijor is well maintained and paved in either asphalt, or concrete in the more rural parts. The main mode of transport for locals are scooters with little to no cars. Therefore, Siquijor is a breeze to get around with your own scooter.
An alternative for getting to Salagdoong beach and exploring Siquijor's best tourist attractions is by tricycle. A tricycle or trike is similar to Thailand's tuktuk. Trikes are basically a motorbike with a side car and are a great way of getting around the island. Renting a tricycle includes a driver and will usually cost anything between Php1000 to Php1500 ($20/$30). Price includes fuel and the driver who usually acts as a guide and a photographer.
Salagdoong Beach Entrance Fee
Once you arrive at the entry point to Salagdoong beach there will be a small lady in a booth collecting payment. The entrance fee is Php30 ($0.60) and an additional Php20 ($0.40) parking fee.
Salagdoong Beach Siquijor
Salagdoong beach on Siquijor island in the Philippines is found at the end of a winding forestry road. Trees along the way almost enclose the road creating a sort of natural tunnels. This street can be considered on of Siquijor's tourist spots and we saw a few tourists stop off their scooter to snap a few shots.
Once we arrived at Salagdoong beach, the first thing we noticed was the turquoise water with a shoreline of glittery sand. Salagdoong beach is no doubt the best beach in Siquijor.
There are 2 bay areas at Salagdoong beach which are divided with a rock formation also used as a cliff jumping spot. The cliff jumping area will be a highlight of many that visit Salagdoong beach. 
We didn't immediatly go for the cliff jump since it was still low tide and a life guard made sure nobody tried anything stupid. So we lazed and paddled around in crystal clear waters that were actually deep enough and fun to swim in. 
There are good snorkelling spots at Salagdoong Beach. But unfortunately we hadn't brought our masks with us. For sure this is a great place to snorkel with the water being almost transparent.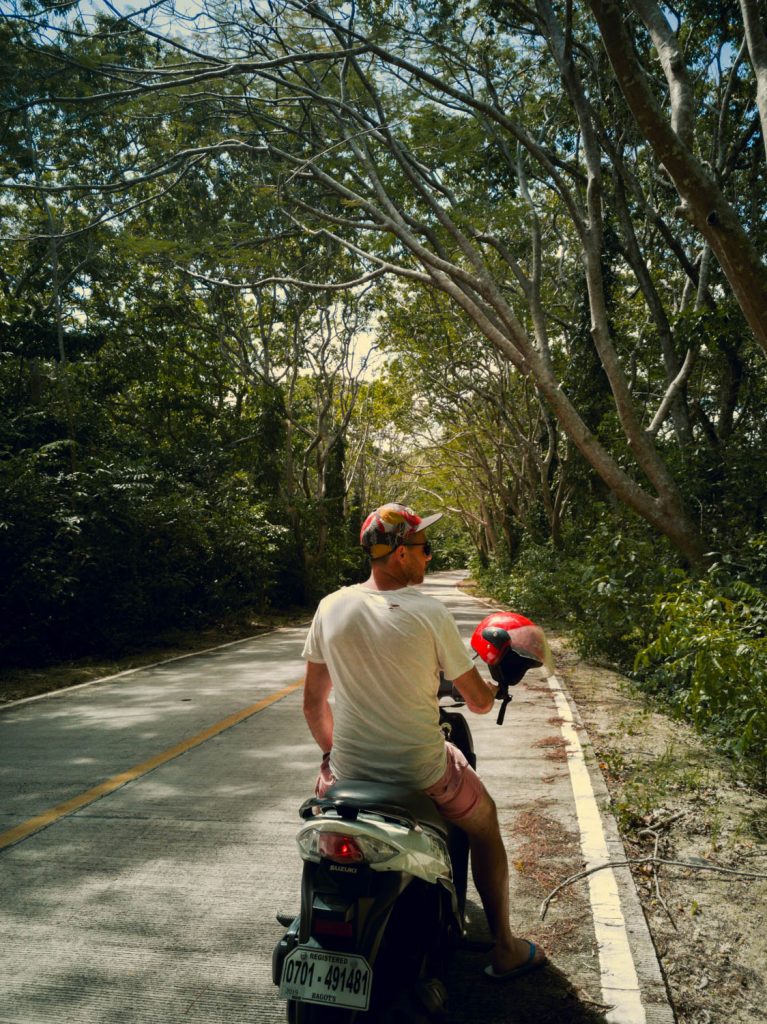 Salagdoong Beach Cliff Jump
Right in the middle of Salagdoong beach there is a rock formation that creates 2 separate beaches. This rock formation is around 35 feet high. This is where the cliff jumping spots are. 
The highest cliff jump at Salagdoong beach is around 35 feet (10 metres) the lower cliff jump is 17 feet (5 metres). These are the heights that the lifeguard told us but to me they seem lower. Nonetheless, especially the highest cliff jump is a solid jump which gave me an adrenaline pump.
The cliff jumps are accessible during high tide. And honestly I wouldn't try to give it a go before the lifeguard gives the go ahead signal. The water down below is so clear that even during high tide the ocean bed looks rather close. But after a few jumps all from the highest point, I can confirm the water is very deep even if it doesn't seem so. 
Travelling between one place and another is always that thing which gets us wondering what is the best way to go about it. But once you arrive in the Philippines you will realize how easy it is to get from one island to the other. 
If you are planning your trip to Siquijor and don't know how, we have written a detailed post on how to get to Siquijor from Cebu, Dumaguete, Moalboal, Oslob and Bohol. Basically there will be just a ferry or maybe two depending on what is your starting point. This link will take you to our detailed post on how to get to Siquijor.
** Salagdoong Beach is Point B on the map.
Add Locong Falls and Cambugahay Falls (marked in red on map) on the way to Salagdoong Beach from San Juan tourist area.